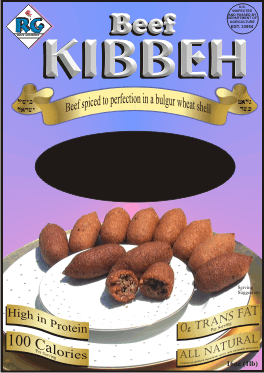 We offer several types of kebbe in retail and Bulk.
Type

Size

Beef

Turkey

Chicken

Potato

Mushroom

Mini

Snack

Dinner

Restaurant
Kibbeh or kibbe (also kubbeh) (Arabic ??? 'kibbeh or 'kubbah) is a family of Levantine dishes made of burghul
(Bulgur wheat), chopped meat, and spices. The Arabic word kubbah (urban Syrian: k?bbe) means "a ball."
Various spellings of the name are used in different countries: in English, kibbe and kibbeh;
in Latin America, quibe or kibe. In Turkey, it is called içli köfte; in Armenian, kufteh. The best-known variety
is a torpedo-shaped burghul shell, They may be shaped into balls, patties, or flat.
No matter what though they are enjoyed the world over by everyone.

What ever you want to call it, it is beef inside a bulgur wheat dough with onions and spices.

Although we cannot give you an exact formula to our product we can provide you basic ingredients and allow you to twick it according to your particular taste.
Recipe:
Bulgur wheat;
allow the bulgur wheat to soak in water to soften.
Flour;
You will need the flour to hold the bulgur together, so it doesn't fall apart during frying.
Beef;
Although traditionally beef is used, you can use chicken, turkey, or vegetables.
Onions;
Sauté the onions before mixing it into the beef.
Spices;
Allspice, Salt, Cinnamon