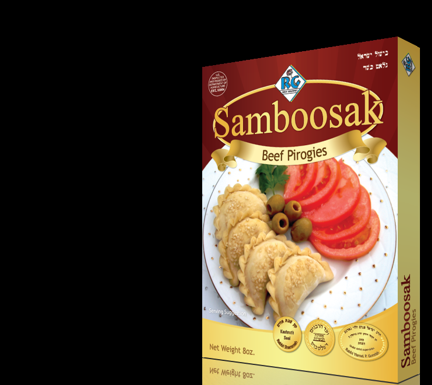 We offer our Samboosak For Retail packaging (shown) and Bulk for restaurant and caterers.
Samboosak is half moon shaped soft dough with beef inside, with sesame toping. Although the Samboosak can be closed using a variety of ways, the most popular being with a fork. We believe that eating is done with the eyes, so we close our Samboosak in a fancy way, giving it a much more attractive look.
The USDA requires us to explain what is a Samboosak, so we add the closest explanation (beef Pirogie). But unlike a Pirogie which is made from a hard pasta dough and is usually boiled, our dough is made from a puff pastry flour, and made for the oven.

Although we cannot give you an exact formula to our product we can provide you basic ingredients and allow you to twick it according to your particular taste.
Recipe:
Flour;
We use Puff Pastry flour, you can use all purpose.
Beef;
Although traditionally beef is used, you can use chicken, turkey, or vegetables.
Spices;
Allspice, Salt, Cinnamon